CHECKOUT OUR RENTAL CAR POLICIES AND GENERAL INFORMATION ABOUT RENTING CARS FROM GOCAYMAN CAR RENTAL IN GRAND CAYMAN.
Click on a rental policy for more details
---
GENERAL INFORMATION
Most credit cards DO NOT PROVIDE Third Party Liability Insurance for damage to other vehicles, property, injury.

Printed confirmation of Third Party Liability Insurance provided either by a credit card or private auto policy must be presented at the rental counter in order for you to decline our Third Party Liability Waiver (TLW), offered at US$11 per day.

Without verifiable proof of third party liability insurance, a security deposit of US$1000 will be charged to your credit card when you decline TLW.

During busy holiday periods the processing of your booking request may take a longer time. If the requested rental vehicle is not available, we will contact you to make alternate arrangements before your pickup date.

Free Shuttle Service is not provided while the rental office is closed. Taxi arrangement can be made if requested by customer. Taxi fare is on average $10 - $15 USD.

---
Age Requirements
Minimum Age: 21
Age 21 to 24 - Must have full license for at least a year. Daily Young Driver surcharge apply.
Age 25 and overDrivers over 80 years ARE NOT ALLOWED. RENTER and drivers must be a minimum of 21 years of age or a maximum of 80 years old. All drivers must present a Full Drivers License, valid for at least 1 year.
---
Additional Drivers
additional drivers permitted an additional charge of $ 5.00 applies per day(per additional driver)
Minimum Age for Additional Drivers: 21

Drivers Under 25 years can only be added as an additional driver. There is a daily underage fee of USD10.00 as well as the additional driver fee of USD5.00 per day. There is no additional fee for a spouse of the main renter on the rental agreement.
---
Fuel Policy
Vehicles must be returned with the fuel tank: As It Left
Fuel surcharges will apply. Price depends on current market. Ask at counter.
---
Deposit Requirements
Cash deposits are accepted. A REFUNDABLE SECURITY DEPOSIT WITH CASH and DEBIT CARDS: CI$ 250 or US$304.88 is required at the time of pickup.

We prefer to accept major credit cards as security deposit on rentals. Deposits paid with a major credit card is reduced to US$200.00 EXCEPT WHEN DECLINING COVERAGE.The following are also accepted for deposit:
Debit Card, VISA Check, VISA, Master Card, AMEX, Discover
---
Payment Methods
GoCayman Car Rental & SaveMore Rent-A-Car Ltd accepts the following methods of payment:
Debit Card, Traveler's Cheques, VISA, Master Card, AMEX, Discover, Diners Club, Cash
---
Optional Charges and Coverage
Basic L.D.W. 119.00 per week
17.00 per day
(BLDW): CI$13.94 / US$17 daily: Mandatory for rentals secured with cash or debit cards. Covers loss and damage to the rental car with a CI$820 / US$1000 deductible. (All Damages under CI$ $820 to the rental car is the responsibility of the renter.) Provides 100% protection for Third Party Liability claims.
Deluxe L.D.W. 25.00 per day
175.00 per week
DELUXE L.D.W. - US$25 per day:
Fully comprehensive "insurance" coverage with 0.00 deductible AND ROADSIDE ASSISTANCE included free of charge. US$100 security deposit when using credit or debit cards. Completely covers any damages to the rental car AND damages to third parties. No need to purchase additional Third Party Liability Waiver with this option.Third Party Liability Waiver (TLW) 13.00 per day
91.00 per week
US$13 per day - TLW provides fully comprehensive coverage for any damages on Third Party Liability Claims. Damages or loss to the rental car is not covered under this option. Security deposit of US$1000 will be charged to your credit card if you decline TLW.
ROADSIDE ASSISTANCE 5.00 per day
35.00 per week
FREE Roadside Assistance service is automatically included in Deluxe LDW coverage option. .
Young Driver (21-24yrs) 10.00 per day
70.00 per week
US$10 daily, per driver between 21 to 24yrs.
Each driver must present a Full drivers license, valid at least one year. CREDIT CARD OR DEBIT CARD REQUIRED. NO CASH DEPOSIT RENTAL ALLOWED.
Full coverage Loss Damage Waiver not available to drivers between 21 - 24 years.
Child Toddler Seat 3.85 per day
26.95 per week
Description: Seat-belt strapped Child Seat
Cruise-Port Transfer 6.00 fixed
Get easy, stress-free quick transfers to and from the cruiseship port to collect your rental car at a discounted transfer cost of USD6.00 - one-way/USD 12 roundtrip.
---
Cancelation Policy
---
Insurance and Coverage
---
Geographic Restrictions
---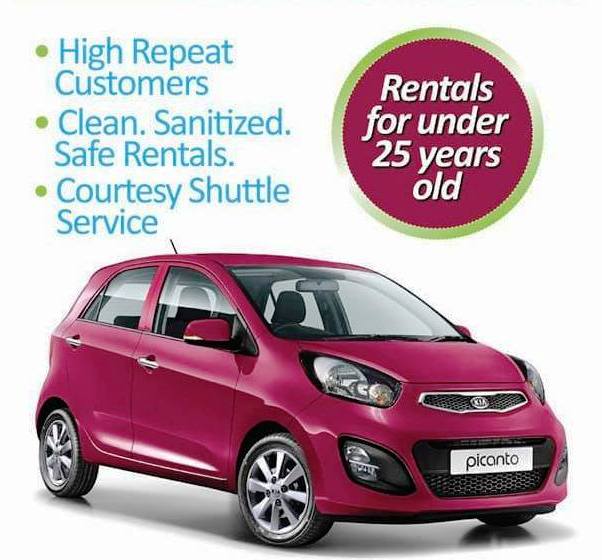 TOP BENEFITS OF RENTING A CAR FROM GOCAYMAN CAR RENTALS: